Day 96: Inches coming off
Total weight loss: 26.5 pounds. Next weigh-in: Saturday, April 21st
I measured myself this morning. I've lost 2 inches in the bust and hips, 2 and 1/2 in the waist. I'll take it!
Yesterday morning after weigh-in, I threw on my one size smaller jeans, and we hit the local diner. I ate a cheddar cheese and onion omelet with a side of crispy bacon and gave Rick all my extras.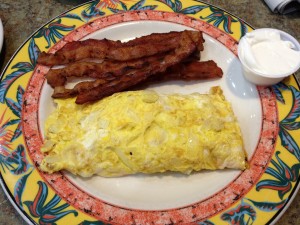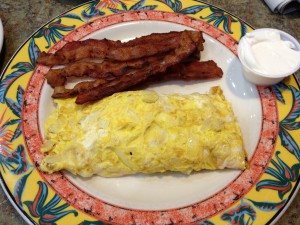 We headed off to work on the rental. We are very close to completion, so we go to do at least a little every day. We finished putting up the new house numbers, then did more kitchen molding. Will it ever end?
Back home at 6 pm, we did some more chores around the house. I ate a handful of almonds for snack until dinner.
Dinner was late again. I heated up some Indian butter chicken and chopped up frozen cauliflower for the rice base. Rick made chocolate mousse all by himself! I think it tastes better when he makes it.
I drank a few glasses of water and got to bed by 1:30 a.m. Trying to get ready on my early rising work schedule which starts Tuesday morning. I'd also like to get some food ready for the week. I have some leftover chili for lunches, but I'd also like to make a batch of bacon trying the oven cooking method Brandon and Lindsey use.