Day 16: More uses for pork rinds
Lost: 1 pound   Total weight loss: 10.5 pounds
Finally, the numbers continue to drop. LOL. Of course, it's only been two weeks, so I can't complain about a 10-pound weight loss. Especially since this has been so easy to accomplish.
Yesterday, I ate the usual breakfast, but deviated from my lunch pattern and had leftover cauliflower and one slice of eggplant.
I had a pre-dinner snack of a cup of Greek yogurt with two tbsps of natural peanut butter stirred in (YUM) because I knew the chicken would take awhile to cook.
For dinner, I decided to try frying chicken strips with pork rind coating. My son, Brandon, had some good luck with it, although he used bacon grease as a frying medium. Since I don't have any, I used olive oil.
I pulverized one whole bag of rinds in the food processor and used almost all of them. At around $1.80 per bag, that made the entire chicken dinner come to about $5 for both of us, which isn't bad at all. I think I'll do as Brandon suggested and process a couple of bags in advance and just keep them on hand in a container to use as breadcrumbs.
The chicken turned out very well. Rick loved it. I thought it was a little bland, so I added Frank's redhot buffalo sauce and dipped the "wings" in blue cheese dressing. We had the inevitable cauliflower mashed potatoes left over from the night before as an accompaniment.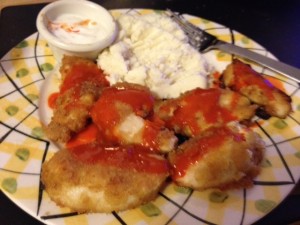 No dessert tonight. Somehow I went over a little on the carbs. Rick was out of Taco Bell hot sauce and used the verde packet instead. 2 carbs! Who knew? The hot packets are zero carbs each. I also am not sure whether I was actually on track or went over by 4. It depends on which nutritional info I use for the yogurt. I'll have to investigate the actual package when I have time.